Already famous for introducing some of the world's best fitness programs, Beachbody also created Country Heat, a routine primarily designed for losing weight.
This program is for anyone who requires some workout motivation and what can motivate you better than country music!
In terms of results, Country Heat isn't far from other Beachbody's programs, and you can find numerous testimonials of satisfied customers who managed to lose weight with this spectacular program.
Country Heat Results
There are the official results of the Beachbody test group that showed incredible progress and amazing results. These results are available online and you can check them out and read all of the transformation stories and be the judge of its success.

As you will see, there are various testimonials from both men and women of all ages. What is in common for all of them is that they combined Country Heat workout with diet plan and Shakeology in order to achieve fast and optimal results.
Country Heat is super fun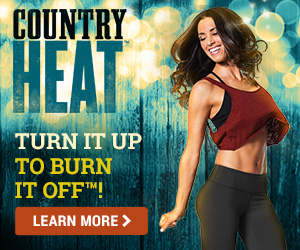 The majority of satisfied users underlined how much they enjoyed while working out and how Country Heat is super fun. Moreover, this routine isn't as intensive as some other programs from Beachbody and as such, it is a perfect choice even for those who never worked out before.
Many of them were so caught up in the program and didn't have that feeling of doing something difficult, and by the time they ended the results were amazing.
Dance moves are rated as fun and easy to learn but also very effective in burning calories and excessive fat. The music is so lively that you won't matter if you know how to dance or even love country music. As a result, you will get a leaner, toned figure in only 30 days.
The six workouts mixed within 30 days
The six workouts are mixed within 30 days in such manner that there is no chance you get bored. Exercises are rather effective for toning and conditioning, and while some days will be more challenging than the others the combination will get you where you want to be.



Highly beneficial for people with some conditions
Furthermore, what you can also find testimonials how Country heat was highly beneficial for people with conditions like hypothyroidism, e.g. Hashimoto's disease or after giving birth.
It is great for anyone in search for low impact routine that isn't intimidating for beginners and yet it provides fast results.
Power of fun
Don't underestimate the power of fun!
There are several reasons why this program does wonders for weight loss.
Firstly, when we are having fun we stop thinking about the fitness program as something that is difficult to do. It is much like when we dance in the club, we get sweaty and sore, but we love it!
The same is with Country Heat; you are dancing even if you aren't very rhythmic it is still fun, fun, fun!
For the best results use Shakeology with Country Heat – replace one meal per day with it. Regardless of your sex, age and the fitness level this program will meet all of your expectations.
Take your life, your health, and your body into your hands and start with the Country Heat today!