And it is official! COUNTRY HEAT IS HERE!
Read my Website name: Country Fitness with Sandy!
Which means: Working out in the country! Or, now even better, working out in the country and dancing on Country music!
Wippieee!
Turn It Up to Burn It Off™! in just 30 minutes a day


Do you wanna dance? – Yes
Do you like Country Music? – Yes
Do you need some pound to shed? – Very much
Then, this is the right Workout for you. It's fun. It's entertaining. It's effective.
When you combine the Hottest Country Music with Easy-to-Follow Dance Cardio and add Simple Portion Control to that, you get the Groundbreaking 30-Day Weight Loss Program – COUNTRY HEAT!
Beachbody as fitness and weight loss industry leader, To my great pleasure, released the cardio based workout set to the hottest country music.
Who is it for?
They say it's risky, because their best know brands are intense programs. But, I know a lot of people who have quit because they don't have fun working out. That's the goal of this workout program, the Country Heat. To give you the fun and pleasure to workout. Not to let you see the workouts as an obligation, but as a constant fun so that you don't quit. And maybe even want another round, and then another, and then another…





Yes, women are more prone to dancing, than men, so you may say it's for women only. But, I have many male friends who adore Country Music, and I know they need some pounds to shed.
The creator of the program, the Beachbody Super Trainer, Autumn Calabrese says:
"I created COUNTRY HEAT because from years of my own dance training, I know that even the simplest dance moves done in the right sequence can be an effective and easy way to burn calories and get fit."
So, don't worry, the moves are simple, everyone can follow and they can help you get sweat and lose weight. It's for you, if you are a beginner. It's for you, if you are already fit and you want to have fun.
"I made sure that each move is simple to follow, so as soon as you start dancing, you'll start seeing and feeling the results… and the popular country music we chose is so great, people forget they're exercising and just have fun!" – says Autumn
What does it include?


In case you are wondering how many workouts it includes:
There are 3 DVD with six workouts in the Basic program. Plus, you'll get a bonus workout if you purchase from a coach – like me.
Country Swing
Giddy Up
Down and Dirty
Bring the Heat
Trail Ride
Dance Conditioning
And if you choose the Deluxe Kit, you'll also get:
Wild Goose Chase
Cardio Round Up
Saddle Up Line Dance
And, not to forget the Eating Plan, every Beachbody program has, but here with the colorful portion control containers in combination. Because every Autumn's workout program eating plan is based on clean eating portion control. Your kit will come with a set of containers and the nutrition guide will help you calculate what foods to eat and how much, based on your unique goals.



So, all-in-all the program includes:
5 cardio dance workouts,
one full-body dance conditioning workout,
a quick-start guide,
a 30-day program calendar,
Autumn's portion-control containers and
nutrition program,
plus the bonus line dance.
Wondering about the music?
With freshly re-recorded versions of 40 chart-topping country music hits include:
Kick the Dust Up
Crash and Burn
All About Tonight
Young and Crazy
Fake ID
Sideways
Footloose
Bar Hoppin'
Be My Baby Tonight
I Like It I Love It
Save a Horse (Ride a Cowboy).
These songs make great combination to create a mix of faster and slower beats, thus making the pace of the workouts easy to follow and cope with.
The bonus line dance set is to a new song, "Night Crawl," written exclusively for COUNTRY HEAT by award-winning country artist Jo Dee Messina.
Where can you find it and what versions are there?
COUNTRY HEAT is available starting from July 28 via independent Team Beachbody Coaches and on TeamBeachbody.com.
How much does Country Heat cost?
There are three different configurations: the base kit, deluxe kit and challenge pack.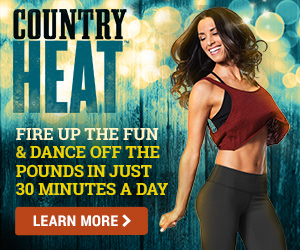 Base Kit
The base kit is $59.85. It includes:
6 workouts on 3 DVD's (listed above)
Dance Mash Up workout (if purchased through a coach like me!)
Quick Start Guide
Country Heat Eating Plan
30 Day Workout Calendar
Portion Control Containers
Shakeology Shaker Cup
Free Gift: Night Crawl Line Dance
Deluxe Kit
The deluxe kit is $119.70. It includes everything from the Base Kit, plus:
Wild Goose Chase Deluxe Workout
Cardio Round-Up Deluxe Workout
Large Blue Container (for portion control system)
Free Gift: Saddle Up Line Dance
Country Heat plus Shakeology Challenge Pack
$160 – but I'm guessing it will be on special in July and August for $140. Don't quote me on it, but the odds are extremely good! The Challenge Pack includes everything in the Base Kit, plus one month of Shakeology, a 30 day membership in the Team Beachbody Club.
Country Heat plus Shakeology Kickstart Challenge Pack.
$205. This Challenge pack has everything in the regular challenge pack, plus the 3 Day Refresh. It is expected this will be on special for $180 during July and August – again, just a guess.